Next...
September 26, 2009
He watches her fingers tap away
and away
with such assurance.
She calls for the next customer.
TapTapTap
Her hair is wet and wavy.
She looks fresh,
and better than beautiful,
interesting.
Her eyes are huge
and warm
like the freckles on her face.
He's never had a chance to stare long enough to count.
Next customer.
He sees that she smiles
at the other cashier.
A male.
He wonders if he should turn back.
But she's better than beautiful...
she's interesting.
She pushes her shining brown hair
away from her face,
and he wonders how she would feel
if he ever did it.
He wonders what her hair smells like.
He wonders if he'll ever get close
enough to know.
What does her lip gloss smell like?
She's never offered a taste.
He's almost next,
and she's acknowledged him already.
She's smiled.
He has a box of canned sprite
in one arm.
He has something for her in the other.
And it's almost his turn.
Next.
TapTapTap
He leaves the sprite...
and the bells ring behind him.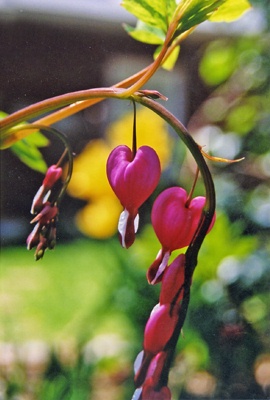 © Sophia E., Wilmington, DE