Confusion in three parts
October 9, 2009
I
I feel the September chill
Walking through my bones
Like the echoes of all the things
I forgot to do. Suddenly
I take great solace in stillness;
The silence of the soul that soothes itself
In a balm quieter than all other ointments.
I remember Olympus, though invisible,
In the dark that is so abundant here
Against the rhythms of our breath
Sending incomprehensible waves
To the tired, sore insides of another
Burning like black rags, soaked in petrol.
How am I supposed to know what
I should be when I am sixteen?
Am I somehow like a ridiculous
Patronised semblance of an adult
Queer in her handwriting and vulnerable
Of soul? How can I counter the salt
That seasons every wound with bitterness
The crystals that sting pain around
Every corner and the seasons that slip
Through your fingers like dust?
Once I do know you it will be too late
Because I will already be a murderess
In that fumbling embarrassment
That is clear and brazen as Aphrodite—
Pink before her period.
Clear, that terribleness that shrinks and curls
The corners of the soul like burning crisp packets
Weak, black, and blown away in the wind.

II
Don't moisten my eyes with your confusion
Deep as oceans and vast as cities
I cannot sleep enough in that time
To fill me up with blue analgesic
My vacuole is still budding, uncomfortable
Within me and stretching my skin like a tumour.
Its emptiness makes me afraid of my skin,
Afraid that it will no longer shut me in and protect me
As one entity. This emptiness will destroy
My solidity, poignant as separating into fragments
Electrocuted into bareness in the face
Of cruel scrutiny on transparent gel.

III
This is my purging
Harsh and sharp as my steel tipped pen
That now presses into the page
Releasing a fresh, invisible pain.
This is my stomach acid
Repellent as anorexia
And extreme as such: ridding
My soul of all things insidious and parasitical—
A foreign cancer, but still black as night
And sickening as worms.
It drifts me away on a current
To a wide sea of unfounded perplexity
A forest as thick and meaningless as a bad poem—
It carries me through.
In the ticking of a few minutes
I will be there
And all that will be left is exhaustion
And the faint fingerprint of my heat on the pen.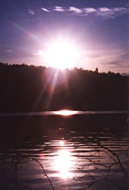 © Laurie T., Hopkinton, MA