You Were My First Friend
MAG
October 13, 2009
You were my first friend
And I kept you up nightly knowing
Your grumbles meant nothing
Because discussing the Big Bang
In four-year-old wording, you sounded excited
The man-made twinkles on our ceiling suspiciously resembling
The stars we pondered over our Lion King comforters.
I never believed in reincarnation, but
Expressing that led us to the invention of my
Trademark Deep Conversation; for
Elated and fresh-faced, I lived for the quiet we
Filled with naive hypotheses.
We did not stop at Darwin, concocting elaborate ways to
Make it to our father's office across the hall without
Mother stumbling from her bedroom, the scolding insomniac
Beauty still defying dark circles.
I was always the decoy, still am, as you play the grown boy
Doing great things that require departure from your old innovation, your
Place in the hierarchy evident as you bid us all good-bye, your flights to
Maryland, Japan, Jupiter. Though your ­testosterone builds a foggy wall between us these days, I hope, in our yearly great conversation, you
Tell me what it feels like to skate on the rings.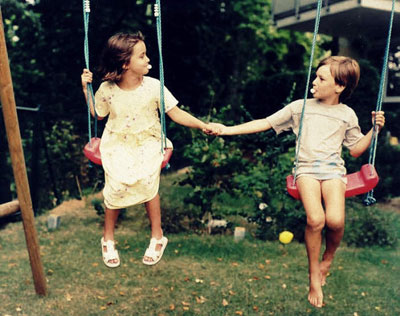 © Lauren K., North Kingstown, RI