Tides
January 31, 2010
I used to have a little toy boat
With maties on the deck
I'd play with it while the tub
And say yarg scallywags, shipwreck!
The maties and I would play and play
Forgetting every rule
I'd splash and crash and smash that ship
While frolicing at the pool
We'd sail into the sunset skies and
Never would I think
I'd feel ever quite as free again
splashing the maties in the sink
The ship, the scallywags and I
Should never be apart
Because between the sails, the deck and I
Lied a little piece of my heart
Then one day I had the whim
to take them to the beach
the maties drifted with the tide
But drifted out of reach
I struggled, pushing against the waves
Reaching out in vain
Salt water splashed into my eyes
I fought against the pain
But when the waters got too deep
I could no longer stand
Though my legs would kick and search for ground
my toes could feel no sand
So I swam backwards towards the beach
Collapsing on the shore
And though I gazed out upon miles of blue
I couldn't see my maties anymore
Far out on the horizon, Or to the depths
Did it sink, or maybe float?
I guess to me, It doesn't matter much
For My soul's now missing its boat
For out there now
Lost at sea, drifting the ocean blue,
Isn't just a little old toy ship.
But my youthful joy, too.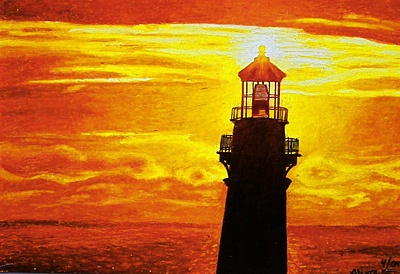 © Alyssa G., Charlotte, NC