Insomnia
March 24, 2010
All I want is to sleep,
It's the only thing on my mind.
I'm thinking of peace,
Please God, please.

My mother doesn't love me
My daddy is long dead
My friends are nonexistent,
Playing cards inside my head.
Sleep, please?



My mother always told me,
"Pray to God and you will see,
Give yourself to him and you'll be free."
I said, "But mama, I don't know how?"
She slapped my face, she pushed me down.
She took her red nails, ripped open my skin
Then used hateful words as poison.
She shook my shoulders and she screamed,
"You'll go to Hell you wicked girl,
Praise his name, praise the Lord!"
Oh God, All I want to do is sleep.


I talked to my daddy every night,
Wanting to hear how he loves me.
"Just once would be nice, Daddy?
Can you hear me? Please..?"
I listened hard, but never got a reply.
My throat turned to fire,
I couldn't help but cry.
I stared at the ceiling,
Wishing to see stars.
All this emotion, all that I'm feeling..
Matches all these scars.

I just really want to sleep.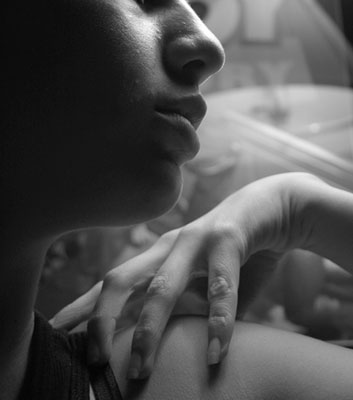 © Rebecca B., Santa Clara, CA