This one is to.
March 25, 2010
This one is adresssed to you.
But so is this one too.
You see me and her,
we never were.
I thought as the sun crossed our smiling face,
I looked down at your untied shoelace.
We were so very close,
but so very distant.
I don't believe you here me now,
up there in heaven.
How is it?
Did you touch gods hand?
Did you walk with your parents?
You'd lost so much,
and deserved a better chance.
So this one is to,
you.
Stay strong my little troop,
because I will be there soon.
You were shot to, like a basketball hoop.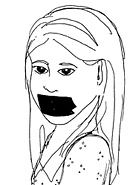 © Liza M., Vineland, NJ