Robbed of a Cradle
March 7, 2010
There is this love where you lay your hands gently.
You arrange them in cradles.
For fresh to nestle there.

And their skin is mild.
And things are still fine-tuning.
They have things to tell you.
You don't listen right.
So they are content to let you love them.

Soft as peach.
Special.
Because you know it.
And they know it because you know it.
And you're what you've wanted to be.
Every embrace is selfless.

They grow into that love until they can give it.
Nothing hurts.

This is loving, and you didn't love.
Where were your arms?

I'm sorry but my limbs got lonely.

This love is not that.
This love is not that.

This love is beastly.
This love is dark.
This love eats.

I didn't know how to get it right. But I needed it.
And I am not special.
But I need to be.
Ouch.

Now I'm a baby carrying a baby.
And this baby mushed inside of me will soon be a peach.
Plucked out. Cut from the vine.
Punished.

And the one that ate won't be there for my baby.
My baby.
Who will cradle my baby?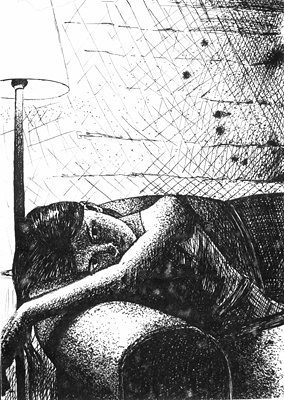 © Elisabeth R., Elmont, NY