Violet
April 16, 2010
Violet's purple dress floats like a midnight cloud.
Her crystal necklace glitters like a peony in the rain.

Eyes shine as she looks up to the star-glittered sky.
When she smiles, her joy lights up the earth.
Gentle and caring, her voice soft as a butterfly's wings fluttering from flower to flower.

Behind this soft beauty, lies the heart of a tiger – fierce and true.
Loyal and brave, her lovely eyes search the hearts of others.
A bird lands on her hand.
Whispers, secrets in her ear with its singing voice.
She sets free, so it can return once again.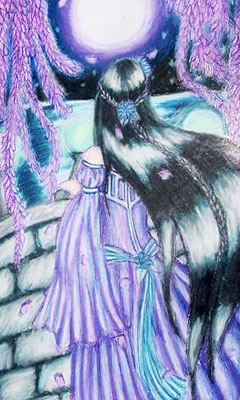 © Kelly K., Fort Collins, CO