Last Good-bye
May 8, 2010
The glass covered the slick pavement
shattering what was left of her.
Her cold body laid breathless, the stars blanketing her as she slept in the silent of the night.
Two cars scattered in wreckage, with no one inside.
Beyond the lights flashed letting us know help was coming
but it was too late.
She was gone and his life had forever changed.
He cried for her, cried for what he had just lost.
Cried beneath the stars,
cried for everything she would never see.
Cold rushed over him a chill ran down his spine.
Life taken so quickly
without a good-bye.
He pressed him self against the car,
her car.
The one he would never see again.
Through all the pain he smiled
remembering last week.
Their first I love you
their last kiss
their last good-bye.
He held on so tight but nothing could save her.
A life meant to be taken
because she as never truly his.
But it hurt just the same.
He looked up and saw the stars.
"We're just star dust. All made from stars"
he could hear her whisper in her ear
just like she was there.
His life had forever changed.
He would never forget all those times
they had shared.
She was his first love
and he shared something so beautiful
most wouldn't understand.
It was time for her to go.
He saw her spirit float to the air
and up to the Heaven.
There he knew was what was the best.
There the world was not cruel.
There everything was perfect.
There she was with God.
And one day when his time came
they would meet and their last good-bye
wouldn't mean what it did then.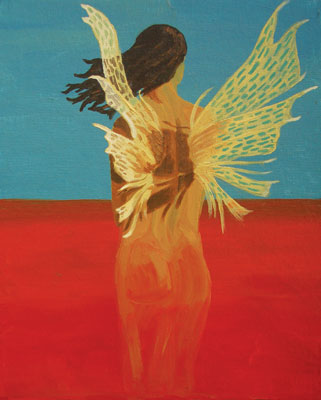 © Allison F., Langhorne, PA