Sin is my Shadow
July 12, 2010
I walked to my window to see you once again,
You're that constant reminder of depressing and hateful sin.
I look down on you in disgust and hate,
I forbid you to come near me because of the things you create.
You only make me hate myself even more,
You're always there when I am devistated and sore.
You don't have a face, but you have an ugly black glow about you,
You're my shadow and there's nothing I can do.
I am stuck as me forever,
But there is one thing about me that I found completly clever.
I will never let my shadow take me down,
Because I learned that crying only produces a bigger frown.
I do believe that I have sinned and I admit that with pride,
But I'm only human and it's something no one should hide.
I have a shadow and so do you,
Let your shadow remind you that sinning is what we humans do.
We all make mistakes, big and small,
Don't let sin make you fall.
Be happy and proud and remember it's ok to cry,
Guys, for the love of God, don't be so shy.
Crying is the best emotion to express,
Because when your sad there's going to be stress.
A shadow is a constand reminder that you are stuck as you,
But always be happy and always stay true.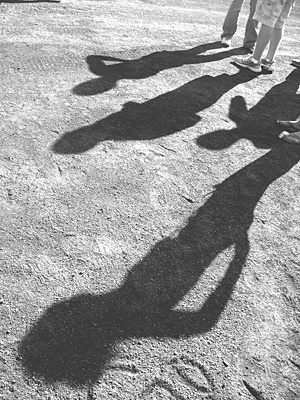 © Trella R., Mountain Lakes, NJ