Lost In the Music
September 28, 2010
My fingers flicker upon the keys
Tuneful music and melodies
Striking chords of symphonic
Bliss
A flurry of notes scurry out of my perception
And dance to my fingers here they play a sweet tune.

I glance out the window and grin at the moon.
Her radiant smile reflects off the keys
And glows in my eyes,
Alight with new confidence

I'm an eagle, I soar till
The tips of my fingers
Brush up against a cloud of
Perfection
A winsome wind gently whispers to me
"Go back down to Earth from your sweet reverie"
So I fly down from space
And glide through the night.
The stars wink at me
And beam from above.
Soon I am back at my piano,
My one true
Love.

An ocean of Ebony and
Ivory
Envelopes me in their striped black and white
Then I'm lost in the music,
My piano and
Me.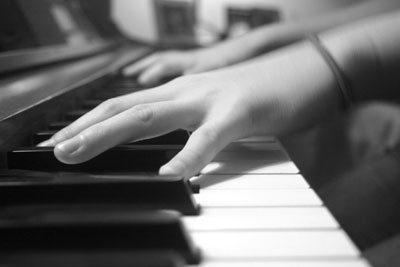 © Elizabeth S., Newton, MA