Growing Up
October 21, 2010
Growing Up.
Gone are the days of chasing down the ice cream man.
Now she's chasing down boys, chasing down her dreams- running towards the future.
Gone are those playground days, and throwing the ball back and forth.
Now she's throwing that car into gear, and taking off.
She thinks about how the scariest thing was breaking her mom's favorite picture frame.
Now she's scared about someone breaking her heart.
How she misses a time when it was a bad day if she wasn't picked first in gym class,
When the worst thing was not being allowed to stay up that extra ten minutes to watch the end of her favorite TV show.
Gone are the days of make-over's and making brownies at slumber parties, or making snowmen in the snow, or playing dress-up.
Soon to come are the days of picking the perfect white dress.
She remembers when filling out a piece of paper was for creating a MASH game to play on the bus ride to school.
Now she's filling out papers for jobs, and college; filling out papers that can determine the rest of her life.
She misses meeting someone for the first time, and acting as if she's known them her whole life. She remembers when there was no "popular" or "outcast" and everyone played kickball at recess.
Now, she has trouble determining who to trust- who to let in.
And she worries about being judged for how she looks, who she's with.
Who she is.
No longer does she go through life unconcerned; how she misses that carefree childhood.
She now lives in that scary, wild, stressful, busy, intimidating neighborhood. The neighborhood called high school- her temporary home until she moves into the college hood. The real-world hood.
She misses the days of coloring books, lemonade stands, birthday parties with goodie bags and riding roller coasters again. And again. And again.
The only part of her life that's clear is her past. Her present is still unfolding, her future's still hazy.
It's a crazy, frightening, humbling, hectic, wild and beautiful life.
And as hard as it is- growing up won't bring her down. It won't stop her.
That care-free little girl is different now. That care-free girl is smart; she's unsure; she's scared, she's fearless; she's vulnerable but she's tough. And she's growing up.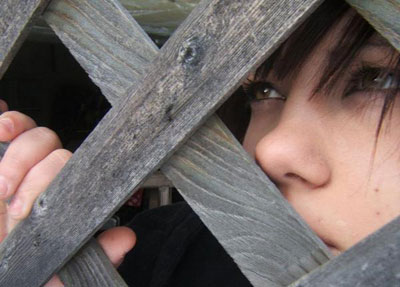 © Krystal B., Bloomingdale, IL