Learn
December 23, 2010
If you will break someone's heart,
Never give them medicine before
So they can get the full torture treatment.
Rip her pulsing heart out savagely with your bare hands,.
And remember to squeeze and hold on tight.
Tear the beating core into two pieces,
And destroy both halves as completely as you can.
Let the remorse bleed through the split seams of the damaged piece.

If you will torment someone,
Make sure you have the right equipment.
Always have the old-fashioned club to beat the exhilaration out of her,
And have a needle to poke her sensitive skin for days on end.
The sharp butcher knife takes care of the veins and arteries that hold her together,
Cutting up her belief in love and infatuation eternally.
Scalding water will let the skin peel off slowly,
Letting the personal thoughts come out in the form of blood.

If you will steal from someone,
Make sure it is the most valuable possession that you are stealing.
Let it be her favorite memories,
Her treasured reminiscences of you,
And obliterate it right before her eyes.
Take it on her very whims,
Slowly and painfully,
To make sure she can understand that it was never hers to keep.
Seize it and hurt her.

If you will tell someone you do not love her,
Choose the best day for her.
Maybe Valentine's Day,
Or her birthday,
Or just everyday.
Let her find out the secret
When you are having fun with girls,
Enjoying your time,
Never to think about her.
Laugh while she pours rivers of ache from her eyes
Never to look anymore at the one she thought loved her,
For she loved him.

If you will heal someone's heart,
Use the dullest needle you can find to put back the two pieces of her heart
With sweet-smelling, passion-fruit thread
That will always keep her heart in one.
Bathe it with liquid love,
Pouring the cool fluid right on top, and let some seep down the sides and inward so she can feel better everyday.
Gingerly and carefully put it back where it was,
So it will never be tested anymore.

If you will love someone,
Make sure you have the right equipment.
Her beloved chocolates,
Her little trinkets,
Anything she desires is yours to bring her.
Feed her your love,
Slowly and perfectly,
So she can know that you love her.

If you will give someone a gift,
Give it the right way.
Make sure it is the one she has always wanted,
No matter what size,
What shape,
Anything at all will do.
If she asks for your love,
You will give it,
No questions asked,
Because you love her.

If you will tell someone you love her,
You will choose the best day to tell her.
Maybe Valentine's Day,
Maybe her birthday,
But everyday will do.
You whisper the words in her ears,
You scream them from atop tall buildings,
You repeat them when you wake up,
Go to sleep,
Eat,
Whenever you will live,
You will love her.
You will say the words with affection and hope, and will never say anything otherwise.
She will cry rivers of love, warmth, and trust for you,
Because you have loved her,
And she has loved you.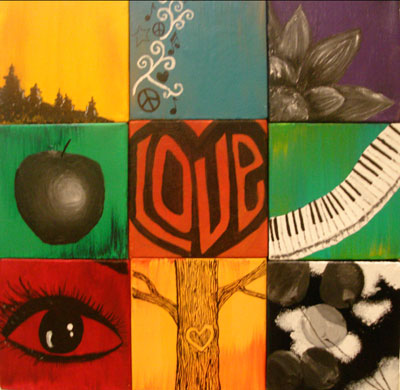 © Christina E., Henderson, NV