Monster in me
March 26, 2011
On the other side of the mirror I see
A different side of me
That is locked in a cage with a key
Because I mask it with ease

The glass reflects
Something that is not seen
A monster with the face of me
Always there, never seen

Mouth in a sneer
Red lips in full
Whispering in my ear
Things that I don't want to hear

Dark little secrets in my mind
Envy Hate Selfishness Confidence fighting for face
Never said always thought
Mostly in back, but trying
Oh always creeping
Slowly but surely out in a whisper

Sugar coated or blunt as can be
Quit?
Never!
Because it can always be covered
With such a thing as a sweet smile

Black as night
Eyes narrowed to slits
Glinting in the mist of shadow
Cold as ice can freeze at sight
Not noticed not seen
Hidden behind the mask

A monster with the face of me
But red full lips
Eyes black as night's eve
Hair long dark as jade

Wicked but beautiful
Oh so beautiful but remember wicked
Shrouded in shadows
Threatening to control me
To become me

To live in darkness or light?
What do I see in the mirror?
A monster I can control
I can choose to listen to or shun
If I wish
Will I be the monster in the mirror?
Or myself?
I will tame the beast that is myself.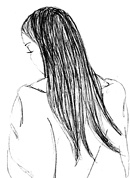 © Miranda B., Neosho, MO