Wounded Soldier
May 7, 2011
Between the naked trees
An old man and his lone hound
Rusted shotgun in his only hand,
Glacial eyes watching dark branches.
He listens to the cold wind


and distant calls of crows


who echo faded battle cries


once carried on running feet.
Untouched snow glistens mockingly,
Peacefully
Overlooked last hopes flutter
from frosted burrs


Shaking pallid powder to his slumped shoulders,


dampening his hair.
A bitter breeze dusts snow around his sunken boots,
and crystals melt in the cracks of its leather.
The hound nudges at the man's leg
and licks the flakes from his ankle.

Nearby a broken turret protrudes,
The bullets having long been fired,
Wreckage long buried
Yet explosions still wrack his memory


gunpowder that hung in the opaque air,


dying screams that once rang through his battered skull,


Now pulled away by the wind, dissolving into the pale landscape


Fading gently from the fractured corners of his mind.
The sun begins to fail,


The sky begins to bleed
A final nod to a wounded soldier
Turn from this rotted place.
Head home, where you're safe.
Let the shells remain under the ice,
But allow their story to linger vaguely.

The hound follows quietly,


leather leash dragging,
sniffing at the wind that fills the hollow boot prints.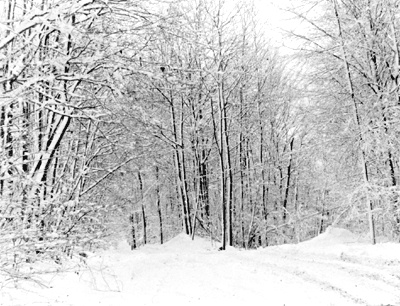 © Thomas S., Portville, NY