A Blind Man's View
September 16, 2011
I remember when I was young,
Free
With my gold hair
Billowing down my back.
The sails to my ship,
My vessel that travels the world.
Beauty opens locked doors
And I was the key, a key that was
Desperate
To be rusty.

I remember now,
With the weary reminiscence
Of a key that's lost it's shine.
The world was shifting
Changing, tumultuous,
Something even I –
Young, flighty, yearning to be free
As I was – even I could tell.
It was one leaf, a single blemish,
The herald of the times to come
Shining brightly, out of place,
Hanging as it was – yellow – from a tree.
The day before, I'd suffered
Through a concert of proposals
Beautiful men on one knee
Reminding my young mind of flamingos,
In their eccentric costumes.
On their knees they rattled off poetry
About my beauty, and
Nothing else.
In childish vexation I ran
To a field of flowers
Where a fantasy unfolded.
As I lay there – oh if I hadn't! –
And thought:
If beauty is in the eye of the beholder,
Well then I wish to marry a blind man.
In that way, my wit will shine
From inside, I will glow
Softly, like a firefly covered
By a soft girlish hand,
One that has not been touched by
The harsh caress of maturity.

It was this fantasy
Floating through my airy mind
That brought a man to life.
He stepped from the scenery
As if stepping straight
From my juvenile thoughts.
He called to me
And to him I turned
Wary at his sight.
But he didn't take the time
To praise my beauty
With striking words of a stunning girl.
Instead he listened
To what I had to say
And the wariness my mother
Had inbred into me
Slowly fell away.

He was not perfect,
This perfect man, who saw
All there was to see.
But this man,
This strange, odd man
Saw the world differently.
To him I wasn't just a body
To him I wasn't just a face
And my callow self
Fell for his trap.
I was sure that this man
Who'd walked into my world
The way a blind man cannot walk,
Surefooted and brave
As if stepping on the surfaces
Of familiar memories,
I was sure that this man
Was a man worth trusting,
Which is why I ignored
The dangers and stories
My mother had told.
She'd warned of Hades
Of monsters, and the unknown.
But I was young,
And I was sure,
That this was not a problem.
So when this man
Offered me his hand
I took it, the way
A young child only can.
If only I hadn't.

Now, I do not laugh
When they call me naïve
I do not shy away from my mother
And the knowledge she possesses.
Instead, I take the time I have with her
To burrow into her warm folds
And mourn the time I didn't believe
Her wise words and cautionary tales.
Instead, I wish I hadn't taken his hand
Taken his food, taken his lies.
Before, all I wanted was a blind man,
But that was only when I myself
Couldn't truly see.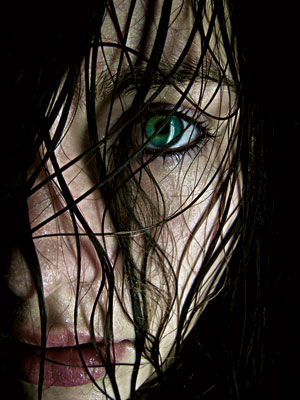 © Jorrdyn K., Washougal, WA