Carousel
MAG
November 5, 2011
Would you like to buy a ticket?
said the master to the girl.
And how could I refuse
the lure of the whirl in your smile?

Snow glare was our disguise,
and gold-gilt poles that glittered
east-to-west, in a spectrum
of white and blue.

The winds blew ice flakes
into my eyes,
they bit and stung, narrowed,
my horizons shrank to you.

You were beautiful, so bright,
your gaily colored wooden horses
spun us
'round and 'round.

A perfect picture show
you painted
in mirrors and cracked glass,
I thought it showed me everything.

When dusk gathered,
and the flying flakes slowed
to a thinning veil of bright,

I saw our horses
could only run
in circles.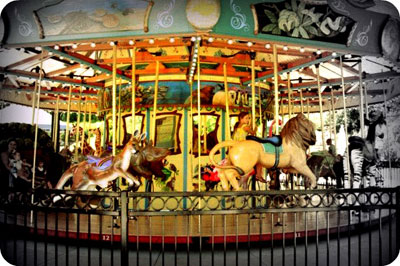 © Abigail P., Uniontown, OH