Reflection
November 28, 2011
We come into this world,
Big eyes bright, full of promise.
Unencumbered, uncontained,
But soon there are so many things we'll miss.

Weighed down by broken dreams, pointless thoughts,
Wasted things.
Year by year, burden gets heavier,
All the people you meet are just ties
You will eventually have to sever.

Walking through the woods, peace with nature,
Dry branches creak, cold wind blows,
Chances are all we can take,
Just want to know we're not alone.

Stop by this pond, endless inky depths,
Always looking down,
But there's nothing to see, all these steps,
But somehow I've still lost me.

Cool crystalline abyss, tantalizingly endless,
Peer in tentatively,
But nothing is ever what is should be.
When I look in blankness is all I can see.

Fog reaches, creeping tendrils,
Traps me until I fall,
Darkness is comforting, sun not shining,
No use in thinking,
But I could have had it all.

Empty meadow, cool wet grass,
Lying alone, looking up
Heavy clouds block out sparkling stars,
Maybe those too will pass.

Wind doesn't stir, branches won't creak,
Nothing to make them reach,
All this pain is supposed to teach.
And the meadow is empty,
Maybe that's the way is should be.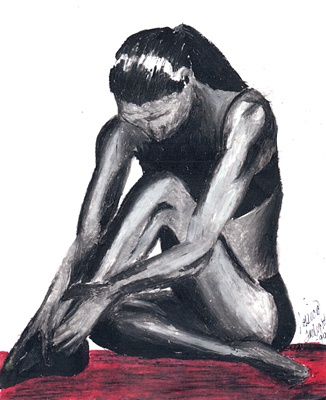 © Jessie Y., Ahwahnee, CA