We Are All Connected
January 12, 2012
The strings.
They are everywhere,
the strings weaving infinite cords into
questionable masterpieces
leaving nowhere unsoiled,
untouched by it's putrescent fingers.
It confuses everything with it's twisted perspectives
as it braids through your being.
Sighing, as it slips across countless scenes,
watching, waiting,
unhindered by time.
Slowly, and with tremendous care,
it thrusts great bundles
of it's knotted essence
deep inside you, entangling your soul, your will,
and then leaving you to ponder
and wander about on your own.
The knowledge invading your mind
unsettles you, tears at you,
devours your peace
and rips apart your sheltered dreams.
It flings the thoughts,
memories, everything aside
leaving room to brand your mind's eye
with the terrible curse it carries
changing you, your thoughts,
your dreams, your hopes,
and your life.
Finally, you come to the conclusion
that perhaps it is best to leave
these hidden, hideous truths
buried deep within yourself
and bear it's terrible burden
alone.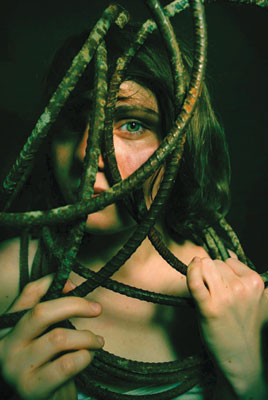 © Narongsukchai T., Sachse, TX