A Leap
February 26, 2012
Ironed and starched
Perfect and neat.
Finishing the touches of makeup.
I don't want to have smudges
When I finally meet my maker.
My shaking hands stop in midair,
And watch the silent tear roll down my pink cheek.
I close my eyes.
No! my head screams. You don't have to do this!
I start to weep, and lower my hand down.
Yes, my heart whispers. Please stop my pain.
I turn to the door, and leave without a sound.
Sneaking past my mothers door I stop.
Without thinking about it, I continue to my meeting.
I don't want to be late.
Listening to my heart, I wipe the tears and trudge the stairs.
The wind hit me, like someone trying to push me back.
I fight against it and continue to the edge of the roof.
Please, my head whispers softly. Stop.
No, I say.
A leap, that is all you need. And the pain will be gone, my heart says slowly.
I look down at the awakening city.
I lift my face to the sun to feel its last ray.
Only one person saw me there. A small girl.
Standing at her window, doll in hand.
She doesn't say a word.
I look at her small eyes.
What are you doing up there? they say.
I stand there and stare at her.
I finally pull away and look down again.
Just one leap . . .
Smiling at the girl, I step away from the edge.
Breathing in the sun, I run.
Never looking back at the edge.
Running back to my room.
Sobbing in my pillow, I breathe in.
I'm alive, I said.
I'm alive.
I run across the street, and run to her apartment door.
3C was etched in my mind forever.
2 slight knocks.
Echoing down the empty hall.
A woman opens the door.
A bathrobe rapped tightly around her body.
Your daughter, I say breathless, I need to thank her.
The woman just stares. No words. Silence.
My daughter is dead, she said calmly.
The window in her room was being replaced.
She dropped her doll out the window.
She leaped out the window after it.
2 years ago.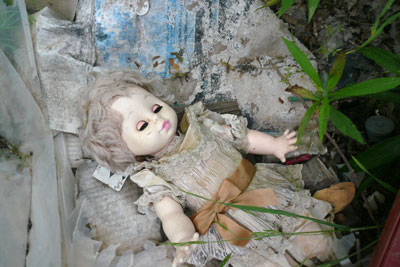 © Ashley J., McDonough, GA