My Baby
April 30, 2012
Too long do we take to move on.
You there—
Small and wrinkled, your skin
Soft and oily—
Unable to hold yourself upright, or to communicate.
We want you to see what there is to be seen on this planet,
For you to walk down the street and do something as simple as greet the neighbors,
Singing with the birds, smelling the freshly bloomed iris over a gentle breeze,
Eating ripe grapes newly picked off of the vine,
Enjoying life while life is there to enjoy.

But you cannot see the world, for your eyesight is barely there.
You cannot talk or sing or walk or lift a single flower.
You cannot enjoy life because there is no life of yours to enjoy.
No—you are trapped in four barriers and a sea of nothingness.
Do you even feel?
Are you aware of where you are, who you are with, or even of the state you are in?
Do you feel me sitting next to you, reaching from the worn and
weathered Bible that sits upon the cold metal table,
It's pages thin and yellowed by the trials of age?
Like the pages, we are easily torn from the
Bindings that hold us down.
I can lift the iris, or maybe the orchid, to your pale nose.
I can set the grapes by your side, and pretend that I do not notice their rotting
untouched carcasses

And soon, just as your parents moved on, I know that soon
You shall too,
And then my own parents,
And I,
And then every generation to follow.
We take our memories,
We leave our legacy,
We travel by mouth until all that remains is
Paper and
Ash and
Wood.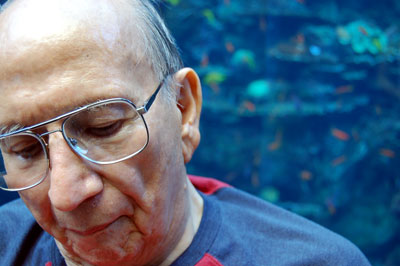 © Missi R., Suwanee, GA