Icees
MAG
May 29, 2012
We were born into movies and late night
Icee trips
At our local Texaco.

The cashier lady knew both of our names
By heart
And smiled and said
"To be young."

I laughed all the way down
Merriman
Because I thought you were funny.
And you laughed,
Because I laughed.

We found ourselves never
Tired.
Even though bloodshot eyes and
Messy hair
In theory, proved we were.

We followed cars
Just for fun.
We never knew their destination,
Only where they were
At that passing moment in time.

We loved rice,
And tea.
Or maybe I just loved tea.
We were much of the same
Those days.

And you had a dad,
And I had a mother.
And they were both hard to please.
So we cried together.

And maybe we listened to
Too much of the
Killers.
And became much too
Obsessed
With the Weepies.
But we sang along
Anyway.

And as our friends slowly
Drifted
And life became more
Complicated
And you made your first
"B,"
We began to drown.

I halfway fought for
All the nights
Of coffee
And ramen noodles
And The Office.

But growing up leaves
Little time
For pastry shops
And antique thrifting.

Instead, we entered Jonestown
And drank his marmalade.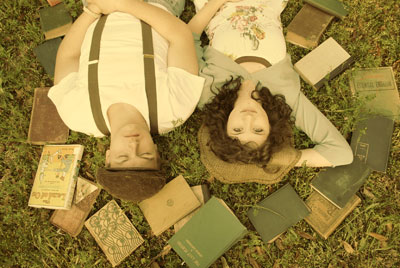 © Gabrielle A., Pensacola, FL