Sitting Alone
July 24, 2012
Sitting alone
In a darkened room.
Knees hugged to my chest,
My breath coming in raw gasps of air.
A tear trickles down my cheek slowly,
Appreciating every second of its journey.

I close my eyes,
The pain is too much to bear.
You left me here.
This is where I saw you last.
Somehow,
I still smell,
The smells of our past.
I smell the lilies
You gave me that night.
The smell is overpowering,
Surrounding me in a deafening circle.
The aroma hurts my nose,
I could taste them in my mouth.
Those lilies you gave me were white-
Like the white of a cloud.
A meaningless, cloud.
Then, the lilies' perfume was sweet and dainty,
Now the scent haunts me like a devil.


That night we sat here
In this very room.
The night we danced
By the open window.
I can almost feel the chilly breeze
Whispering in my ear, now.
On a night like tonight,
The full moon shines
The only light in the room.
It shines on the wall behind me.
That night was a full moon too.
One of your hands was at my waist,
The other at my shoulder.
The sound of a melody
Playing in the background.
It sounded like a lullaby,
With the rhythm of tip-toe, tip-toe.
I remember laughing at us
Dancing by the open window.
Then you kissed me.


I open my eyes.
Pain is shrieking in my heart,
Thundering in my skull.
Angry bullets dance their way in the pit of my stomach,
Making a dreadful knot appear.
You left me here.
Lilies blur my vision,
And I want to cry,
But I can't remember how.
The scent making me in dizzy,
The pain squeezing me into a tight, small ball.
The moonlight flashing through the open window
A reminder of what happened.
A dreadful, traumatizing reminder.


I want to get up,
Break the window glass,
Ruin and destroy the only evidence of you.
But I forget how.
Everything is slipping away...
Away…
Away…
Where are you?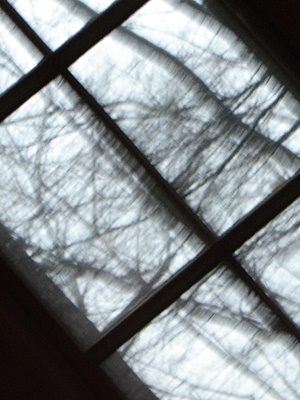 © Claire H., Boxford, MA