The Girl With Flowers In Her Hair
August 16, 2012
He bought me a crimson shirt, even though I never wear red
Because it makes me look sunburnt.
I felt too sheepish to tell him
That I wash my laundry with Arm & Hammer, not Eco's Lavender -
After all, it was so sweet of him to do it for me.
I knew she wouldn't have protested.
He's looking through me as we're window shopping
On 67th street, ice cream cones in hand, sunglasses perched on freckled noses
Dimples pocking my cheek
Like dents in whipped cream -
My one claim to fame:
She had dimples too.
He's laughing at my joke he's already forgotten, nodding and saying "mhm"
Pretending to listen to my hopes and dreams in the car
But I catch him nodding off.
I'm too afraid to stop talking, though, because then he will awake and get mad
Reassuring me that he heard everything
Changing the subject when I ask what I said.
He compliments my green scarf most often
Insisting that evergreen, lime, and olive are his favorite colors
But I know it's because when I wear green
My eyes look green, like the meadows under her eyebrows,
But they're hazel, and he's not color blind.
Asking me about a book by Homer - no, not the Iliad, I'm not that ignorant -
Quoting lines from ancient poets I've never heard of
Amusement threatening to dissipate when he realizes
I've never heard of Dr. something or other.
Nonetheless, I google the good doctor's name at 1 am, when I can't sleep
Just so I don't have to see the disappointment in his eyes
That is, if he ever brings it up again.
We're sitting on the plush sofa in his parents' fancy parlor
His arm draped loosely around my shoulder blades like the woolen curtains
On the windows, pressing my head to his chest, straining to hear the sound of
The heartbeat I can't seem to atune mine to,
Smiling at him affirmatively when I feel laughter reverberations in his belly,
Admiring the floral wallpaper when the questions he's silently asking
Become too unfamiliar.
Lashing out in my dreams, screaming at him
Things I could never do outside my sleep
Because for him, I'm the rebound, the one that's supposed to fill the void,
The first of many he uses to confuse his memories, hoping they'll all
Blur together eventually
Or maybe he'll get into a car accident and forget.
But for me, he's the one I hoped would love me for who I am,
Not for how much of her he sees in me
It's too late now (she always said it was "never too late"), I care too much
However foolish I may be
But maybe if I keep wearing green scarfs, dying my hair red,
Laughing at political jokes I don't get, kissing his forehead instead of his cheek,
And reassuring him that I'll always be here,
I can keep the pain at bay, the torture from ripping the tatters of his heart
To shreds.
At least, until she realizes what she lost and comes back,
And he notices that I don't wear flowers in my hair
Like she did.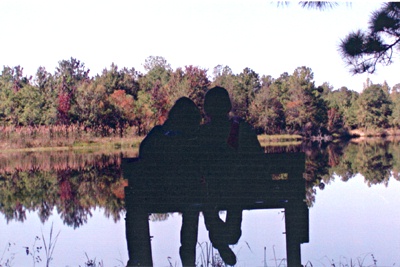 © Heather J., Slidell, LA