no heart is as dark as a juiced strawberry
MAG
November 22, 2012
except mine.

when I am just about to fall
asleep, last night's dreams wash
over me like tea that has
been steeping for hours. the
feelings drown my lips
but leave them chapped. and I am
so afraid of drowning, of ending
up like the soggy leaves that
stick in the soles of hiking boots
even weeks after a storm
has fallen, as damp as the
bound feet of a young girl.

I was stuck in an elevator once, with only
enough battery in my phone
to call my ex-boyfriend for five
minutes. but we just sat in silence
while the TV went on in the background.
I thought I was going to die, but
he didn't, so I suppose there was no reason to
talk. my heart had gone to toffee,
all mellowed
out and sticky in the heat.

as time
moves up
and days
add on,

my blood is chewed to leather.
no heart is as dark as a juiced
strawberry, except mine, which
grinds its passions out and lets
them bake, a marlinspike marrying
cold risk to break.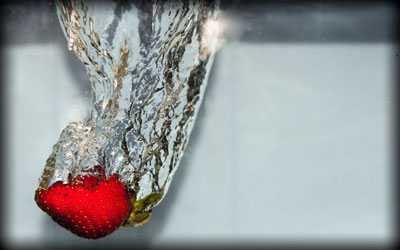 © Abdullah A., Qatif