Life is a Funny Thing
May 24, 2013
Life is a funny thing.

It begins with benign intentions and quickly turns sour.

Friendships disintegrate, perceptions are skewed, dreams fray, failure is inescapable.

The fear is incredible.

It seems that there will never be anything but this, this bewildering, frightening existence.

But for some strange reason, we plow on.

We look to higher education and the job market and requited love for solace, believing so fiercely in this formula of success. And for a while, it's better.

Easier.

Familiar.

We are content with the ordinary and the average and the expected. We like how neatly the pieces fit together. All is well.

And then It happens.

It, the event that takes us to our knees, destroys our buoyancy, reduces us to crumpled heaps sobbing on the tiled kitchen floor about betrayal and loss and humiliation.

It annihilates all we thought we had.

And we stand there in the rubble. And we weep. And we think of the hardships to come. And we look around at the wreckage and we think, how can I go on?

Miraculously, a small flicker of determination develops.

It's tremulous, practically on the verge of going out, but with each passing day it gets bolder and brighter, the harbinger of an emotional toolbox stocked with all sorts of essentials: courage, assurance, a sense of humor, gravity, hope. We don't realize it then, but we are transforming.

The pain exposes us.

And what was once an unbearable ache, is suddenly a chance to throw off the repression of a lifetime and finally be who we are in all our flawed, wild, brilliant authenticity.

It's a difficult thing, this life. It comes at us with such force that at times we think we will die.

But it gets better.

We begin to believe in the power of love again,

We perfect our gallows humor,

Our optimism is as tough as nails.

And suddenly we are warriors, having managed to survive the excruciating.

What has hurt us is exactly what has strengthened our character and set us free, transforming our pain into neon possibility. We're untouchable, unbreakable, unbeatable.

Life is a funny thing.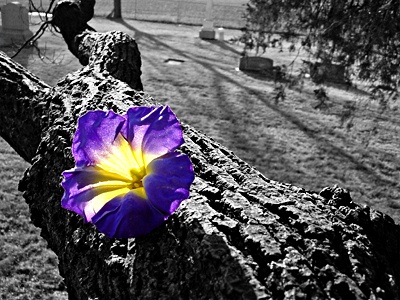 © Greg K., New Lenox, IL