Luce's Coffee House
August 14, 2013
My sleepy limbs recognize
the warm brown door of
Luce's Coffee House.
I feel them grow less heavy
searching for the establishment's
finest cracking leather couch,
I claim it with my cracking leather jacket as an
artist stumbles up-stage to tap the squealing mic.
She fiddles with it so long, I have time to
repeat my order to the chiseled barrister.
Then, sunk deep inside my seat,
smelling hot milk and caffeine,
a couple words blur in static—
sounds so familiar,
I hear them even in my sleep.
There is a certain tone employed for
expressing poetry:
first the reader utters a whisper,
maybe clears her throat, or coughs, then
begins to articulate, a little too loud.
Murmurs in the crowd
dissipate like mist;
only poetry perforates
the thick, coffee-scented
silence
of the room.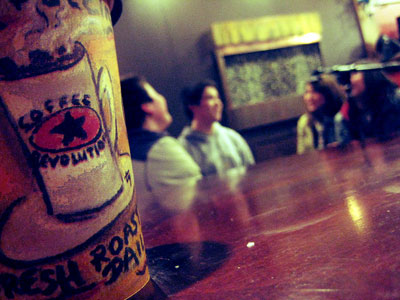 © Seita O., Palatine, IL