Hallucinosis
February 21, 2014
I hear music from the other side of my window.
The pretty fairy kind of music,
bouncy and light,
shiny and hopeful.

It's the kind of music you expect for a princess
spinning around on her wooden pedestal.
But unlike her miniature box,
my music never stops.

I hear it when I wake up,
while I'm eating all of my meals.
I hear it when I stare outside
and dream it when I sleep.

I've walked around the entire building,
from the roof to the bottom floor.
I've checked in all the nooks and crannies
and under all the floors.

I've looked in all the rooms,
but never have I found
the sweet mystery music
that always makes sound.

I still hear the music
but now I look no more.
trapped in a sea of off-white clouds,
lying on the floor.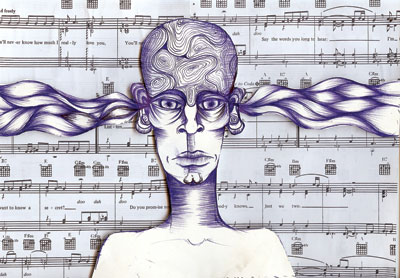 © Ani S., Petaluma, CA