Weight Of The World
March 3, 2015
May be I'm 15, but I don't feel so.
I have to take care of many things,
Running all day and keeping up all night long.
There are different teachers at school
and I have to work for them all,
because if I don't they'll punish me and
may be keep me in the same grade for some time more.
Every teacher wants me to work for only their subject.
But why don't they ever ask me,
what interest me?
I fake a smile to everyone I meet on my way back.
Because if I don't they'll rip me.
My friends are not my freinds,
an enemy is better then them.
But I have to play with them,
because if I don't, loser is what they'll call me.
At home, before changing and keeping my bag aside
I have to run to grocery shop
because if I don't 24 hours I'll have to die alone.
Life plays a sick game with me,
and everyone thinks I'm winning it.
Why don't they come and switch places with me and enjoy this little heaven I'm dying in
The weight of the world on my shoulders is getting heavy.
I just want to cry but nobody allow me,
I think I will die in silent playing this game
Under the weight of the noises
without any name
and without raising voice.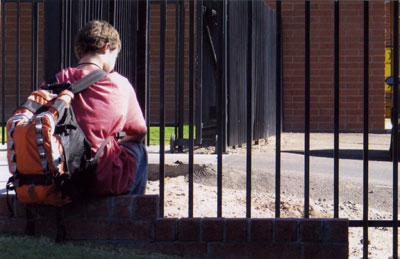 © Molly L., Phoenix, AZ