Suburban Pyrotechnics
MAG
June 12, 2015
You were fourteen when you realized
that the fireworks were made up.
You had seen them once a decade ago,
the shimmering greens, the bleeding reds,
the white-gold drops of concentrated light
that rained from the night sky
in choreographed showers
and vanished
quietly
just before they reached the edge
of your striped wool picnic blanket
that you had spread so carefully
in the grass of the public park.
You had felt the pressure in your chest,
the rattle in your bones.
That night was real, yes,
as real as the jagged columns of smoke
that hung in the air when the show was over.
The world enchanted you back then.
Do you remember all the times you
heard them?
Muffled bangs in the distance,
two or three nights a week.
"It's fireworks,"
your parents murmured, and you
believed them.
You were impressionable, a Play-Doh heart
between Popsicle stick ribs.
Do you remember how sick you felt
when you had your epiphany?
How stupid you had been, how optimistic.
Nothing could have been more obvious.
The random timing, your parents' sad eyes,
the fact that you lived not even a mile away
from the worst neighborhood in Chicago.
You heard them in March.
No one lights fireworks in March.
But when your out-of-town friend visited
for dinner,
and she heard the sound of distant gunshots,
and she turned to you with questions on
her lips,
you leaned close,
pulled her thick wool sweater up over
her eyes,
and whispered,
"It's fireworks."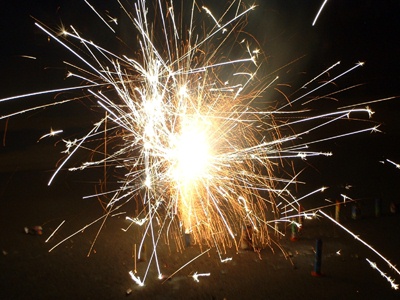 © Kevan B., Beaverton, OR