Anatomy of the Quiet Girls in the Room
January 29, 2016
Girl No. 1 wears her jeans cuffed and hates everyone but the Jets. Her voice is honey-thick around grim words. Smiling does not come easy to her. She wears her face like a mask—big glasses, big eyes, big quiet. When I see her, she lifts her hand in a wave, delta creases in her brown palm. Her excuse for her silence is that she's boring, but she's not. She dots her eyes with tiny stars and listens to German orchestra whenever she can. She thinks she has buried herself well, but bits of her still protrude from the topsoil, aching to be known.
Girl No. 2 is grey flannel and deliberate sentences. Her hair covers her face, yet when she speaks about trees and animals and the hole torn in our atmosphere by ultraviolet, ultraviolent rays, she is thunder. I gave her lotion for her cracked hands one time. When we smiled at each other after, we knew at once we were part of the same club. Girl No. 2 never corrects people when they forget her name. They say Kaitlyn, Kaleigh, Katie…let the word drop as if it were no more important than a used napkin. I hate it. I pick her used napkin name from the floor and smooth it over my lap. I say it right and she replies, with perfect seriousness, thank you: Thank you for the correct pronunciation of my identity.
Girl No. 3 is a hard one. Look once and you'll see Maybelline lashes and a glass-cutting face. Look twice and you'll see more. The sag of her shoulders, the stinging weariness of posturing for people far beneath her. I startle her. I'm too inquisitive for her taste. She does not want the world knowing her mother drank three liters of vodka before driving off a bridge, that her favorite color is celery green, or that anorexia and anxiety stalked her through the halls of high school like a pair of vultures. She wants to stay in her castle of ice, but it has imprisoned her. You poet, she teases me. You right-brained heap of color and sensitivity. You're too much. I don't know what to do with you. I ask her who she is and she recites her answer. 130, 125, 2315. But this girl is more than her IQ, her weight, or her SAT score, and when I tell her so, her Maybelline lashes are wrecked.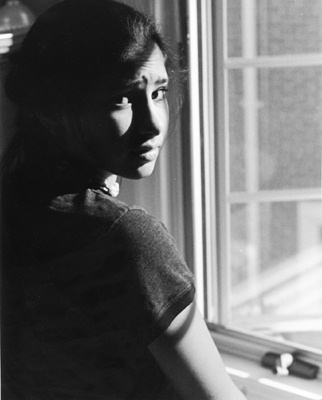 © Jennifer H., Bethesda, MD