Grandma
February 7, 2016
There was a darkness that occurred in their eyes as the illness grasped more of their soul.
First it was my grandma.
She started to yell,
saying she didn't recognize her husband.
"Where is he?"
"Can you help me find grandpa?"
She used to ask, every time we visited.
The first time I heard those words, a darkness took over my heart,
a darkness that crept into the crevices of every vessel.
She began taking medicine,
loads and loads of red bottles on the kitchen table,
with names difficult to pronounce,
and warning labels miles long.
We hired nurses,
she fired them.
Every day she would call, begging us to find grandpa.
At one point it became comical,
"Is he cheating on me?!"
She said frantically.
"No grandma, grandpa's right here."
"That's not him! Who is this stranger?"
I remember thinking the same thing,
as I watched the grandma that used to sing me to sleep, turn into a stranger I used to know.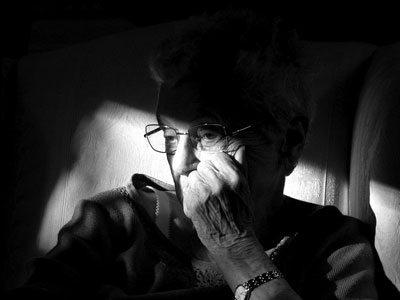 © Kate S., Hopkinton, MA