Coffeeshop Meeting
April 4, 2017
It's a Wednesday.
Time hangs on the brink between the start and end of the week
And here I am meeting you.
The place you chose is unexpected.
The warm lighting and eclectic seating
Combined with the mellow tones sprinkling from the speakers
Paints the picture of a much different persona.
I step inside and there you are.
Hidden in the back corner
A cup of some foamy drink they call coffee nowadays
Is suspended mid air in your grasp
Not yet having reached its final destination.
You smile at me.
A smile full of promise and hidden adventure
But it does not belong on someone like you.
I walk hesitantly towards you
Even though my mind screams at me to run, to escape.
I'm drawn to you, like so many were before.
Step by step the invisible tether you've attached to me
Drags me to the scratched wooden chair across from you.
I reluctantly sit and wait,
Wait for you to either condemn me or give me a future.
The smile is still plastered on your face
A permanent fixture of a house on the block the children claim is haunted.
"How do you do?" You question me.
I don't answer.
"You seem a bit young to be meeting someone like me."
"I can't resist you," my voice chokes out weakly.
Your spell has been cast
I'm enthralled and there's no turning back.
"Are you flirting with me?" You smile ironically.
I can't help the answering grin
That lifts the corners of my mouth and makes my eyes crinkle.
"Will it hurt?" I question, "Being with you?"
"For some."
Your honesty unnerves me.
"But for you my dear, I'll make it painless."
The caressing tone of your voice and the enchanting sparkle in your eyes
Makes me believe you.
"Then I want this, I want to be with you."
Your smile gets even wider, and I feel my connection to you strengthen.
"Can I tell you a secret?" You inquire.
My silence prompts you to continue.
"You're my favorite kind."
I stare at you in blank confusion.
"The kind who chooses me, the kind who like to flirt with me.
You're reckless, it's damning."
Your words disarm me
I suddenly question my intentions.
Do I really want this?
Do I want to throw everything I know away to be with you?
I deliberate meticulously
Examining every facet and detail to make my decision.
But pain and despair that has left me gasping,
And clinging for dear life
Makes the decision for me.
"I'm ready," I declare.
You smile and extend your hand,
Ghostly white, bones straining underneath your skin.
And so I leave my coffee shop meeting
Hand in hand with death
Who escorts me wordlessly into the afterlife.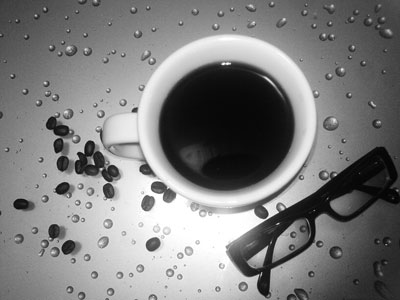 © Hannah U., Staten Island, NY