My Version: Beauty and the Beast
October 5, 2011
Your claws have dig deep.
A trail of blood leads me,
to your dark lethal cave,
where I am a prisoner to thee.

Day and night you hesitate
to speak to me.
You just pace back and forth,
and leave everything a mystery.

Yet you feel the love I give
nothing, but a kiss good-bye,
and leave you, to yourself
to lay and die...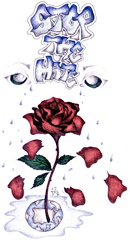 © Diana G.,Phoenix, AZ