Love's Eternal Breath
March 30, 2011
Why did God suddenly take you away?
I shall forever now ask myself why.
I have to live forever without your wonder and grace,
Now since I lost you one heartbreaking night.



The soft moonlight is now our love's fire,
As I visit you in your silent sleep.
The need to feel your touch is never more dire.
My tragic, frozen tears fall as I weep.



Your soft crimson lips are now decaying,
And I cannot reach you deep down below.
Time's defiance to your beauty is betraying,
Just in memories does your true beauty still show.



But I shall always be with you my love,
One short, half-cut lifetime wasn't enough.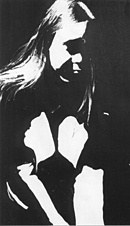 © Tabitha M., Kannapolis, NC