ARC Review: Steelstriker by Marie Lu
August 17, 2021
Steelstriker by Marie Lu is the sequel of Skyhunter, the story of a mute Striker named Talin who saves a Skyhunter named Red and is then kidnapped by the Premier, who turns her into another Skyhunter. The book was beautifully written, with a storyline that held the writer's attention and a deeper meaning that sent tears to the eyes.
My favorite thing about this book was obviously the storyline; Marie Lu has such a way of weaving a story that is consistent, action-packed, and gripping. At every turn, there was betrayal, action, and, of course, the tight binds of family and friends. She always manages to incorporate these things into every book she's written, and that is why she remains one of my favorite authors.
The characters were also very 3-Dimensional and family-oriented, which I found made you like them all the more. My favorite, I think, will always be Talin, the main character who uses her inability to speak as a strength rather than a weakness. But I also found myself adoring Red, the Skyhunter Talin saved in the first book. He was very strong-willed and willing to do anything to protect his newfound friends. The only thing kind of gray about the characters was how underrepresented side ones were in this second book. In the first one, I really liked Aramin and Jeran-and their cute little romance!- but I felt they didn't have a lot of screen time in Steelstriker and that kind of disappointed me.
Another thing was how dark the story could be. In one chapter; Talin witnesses a woman, who is connected to her mother, get her finger cut off! I know that in past books Marie Lu has been just as dark: For example, in The Young Elites, the main character takes a very dark path and ends up losing her friends and dying… Needless to say, her dark side is prevalent in a lot of her books, but was it necessary in this one? Despite that, though, the ending was happy and I guess that is all that really matters.
The storyline, of course, was perfect! Marie Lu could take a story about a bean and turn it into a book full of kick-butt awesomeness, swoon-worthy romance, and beautiful friendship! Her way of connecting Talin's mother and her so thoroughly was another very high point; I believe family is one of the most important things in the world, and Marie Lu really represented that in this book.
All in all, this book was full of genius and excitement that no one else could ever recreate. Marie Lu is a brilliant author that wove this story beautifully! I hope she will continue turning out books just as amazing as this one!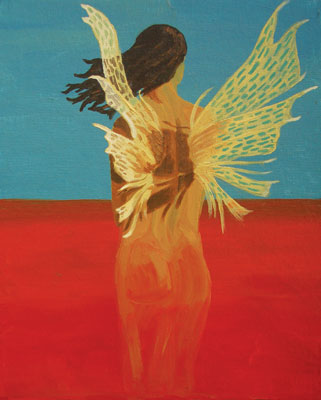 © Allison F., Langhorne, PA