Back to the Future
August 12, 2018
Back to the Future is one of Spielberg's finest and is an absolute classic. Marty McFly is a normal teenager, who lives in a small town in California. He has a girlfriend, an overprotective mom, a father not willing to stand up to people, a dream to be a rock star, and a friend that happens to be an eccentric scientist. That eccentric scientist is on the verge of finishing his invention to make time travel a reality, but when Libyans kill him for stealing Plutonium, Marty McFly ends up driving away as fast as he can, and he ends up time traveling back to the 1950s. Marty ends up encountering younger versions of his parents, but when he accidentally messes up, he has to ensure that they fall in love and marry each other, or the consequences will be more than severe: Marty may never be born. Not to be outdone, Marty must also return home in the right timeline and rescue the scientist, Doc Brown, before it's too late.
The time traveling device that Doc Brown creates looks and functions as a car, but at 88.5 miles per hour, the car time travels. However, the car runs on plutonium, because it needs a strong power surge for the invention to work. The plutonium works great, but in the 1950s, plutonium is hard to come by, so Marty needs to find a different power source to create the invention and fix the timeline.
In order to accomplish this, Marty goes to a younger Doc Brown and asks for help. When Marty tells him something that he could only know by being from the future, Doc helps him by letting him know that the only way to recreate the time traveling invention is to harness the power of a bolt of lightning-a more than difficult task. And not to be outdone, getting his mother and father to meet and fall in love is way more difficult than it sounds.
Not liking this movie is a difficult task. The movie has charm, futuristic technology, a charming protagonist, and showcases science fiction at its finest. There's adventure throughout the entire film along with romance and science littered at certain parts. The movie even has some great comical moments that add a light tone to the movie. Without a doubt, for people who haven't yet seen Back to the Future, it's time to watch one of the greatest movies of all time.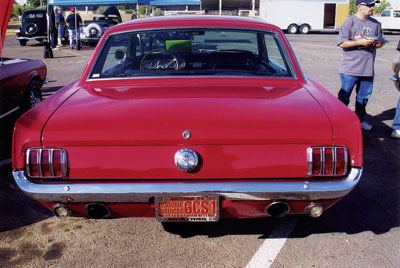 © Andy G., Phoenix, A