Oh Sit!
May 6, 2013
Boring. Uninteresting. Been there, done that. These are all phrases that describe the latest game show on air, "Oh Sit!"

The show, in my opinion, seems like it tries too desperately to be like a very similar predecessor, Wipeout, ranging from the obstacle course feel to the commentators dropping corny jokes to the beautiful "on-scene" reporter. So with all of these elements, why is it that I loathe Oh Sit compared to a very successful show that I personally enjoy in Wipeout?

Let's start with the commentary. In any sports/competition oriented TV show, especially when played for money, the commentators have to be funny and fit the role of the image that the show wants. In Wipeout's case, we have John Anderson and John Henson. They consistently drop corny jokes, the occasional vignette, and nicknames galore for their seemingly endless waves of contestants. Then there are the Oh Sit commentators, Jamie Kennedy and Jessi Cruickshank, who practically rip off everything the two Johns have perfected. So why, in my opinion, are the Oh Sitters so much worse in commentary than the two Johns?

The answer is simple; Wipeout aims to be a family friendly program while Oh Sit has adult jokes and references that won't make a young audience holler with laughter. Jessi and Jamie are practically lacking personalities and their relationship is uninteresting to say the least. They appear to be like the duo commentators from the movie Pitch Perfect during the finals, where they drop the occasional funny and promiscuous joke. The only problem is that the movie knew enough to keep their jabber limited because the screenwriter, producer, and director knew that if the two spoke too frequently they would lose their humor. Oh Sit doesn't seem to understand that, and we hear the duo dropping sexual jokes left and right, the occasional chuckle-inducing, but most stale and lackluster. The Johns, however, fit their role well, with Henson's infantile personality and Anderson's down-to-business mentality combining to get bellows of laughter from younger viewers and enough chuckles from adults to keep parents from complaining.

The obstacle course style is usually a reliable option. A simple ingredient for TV success is usually: Person +Pain=Ratings. That is an almost universal rule, with very few programs failing. And typically, the bigger the hits, the bigger the ratings. You might argue that this gives Wipeout an unfair ruling in that matter, seeing as their budget is monumental and their course is outside. Even so, that doesn't mean that an indoor obstacle course can't be just as entertaining.

The thing is you can't simply have "obstacles" to have a good obstacle course show. Having people wait through waist-deep water and over rafts in a pool isn't entertaining to watch, it's something that most water parks offer as enjoyment. Most of the show's obstacles are so basic looking; it appears they just tore them straight off of some elementary school playground somewhere. The only moderately entertaining obstacle they portrayed that evening was the finale, and even that was underwhelming. What the show portrayed that was unique was its musical chairs feel, which allowed them to bring on live bands for the program. However, once the music starts playing it quickly becomes lost in a cacophony of unintelligent statements from Jessi and Jamie.

While the "on scene correspondent" isn't normally a game changer in these sorts of shows, in this case I found that there was a profound difference in the interest coming from the contestants coming from the location thanks to the correspondents. Wipeout's correspondent is Jill Wagner. She is beautiful, funny, and has a comedic with that is unrivaled by her colleagues. Oh Sit's correspondent is Tamika Ray, equally as beautiful as Wagner, but completely incompetent in everything else. She fails to make post-course interviews even slightly interesting, as I find myself scratching at my eyes hoping her cameo will leave quickly and painlessly.

And speaking of the people that help make the contestants interesting, let's talk about the contestants themselves. Most of Wipeout's contestants, with very few exceptions, have over the top and entertaining on-screen personalities. And even when a contestant isn't all that interesting, the Wipeout cast finds a way to turn them into your running mate, the person you'll be routing for from the very beginning to the very end. Compared with the Oh Sit cast, that does little to make uninteresting contestants any more interesting. Wipeout comes up with, for the most part, clever and witty nicknames, while Oh Sit comes up with often times sexually explicit, unfunny, and uninteresting nicknames.

Why is this? Well, it might be because Wipeout doesn't focus on all twenty four of their contestants at a time. Wipeout looks at the few who make it to their later rounds and decides how to make personalities out of those, whereas Oh Sit tries to focus on everyone at once, and fails miserably under the overwhelming task. While you have to commend their effort, with a ratings war sure to be arriving when Wipeout makes its return in June, there will be little doubt (in my mind at least) at who the best obstacle course game show will be.

I know I've said some terrible things about Oh Sit, but there is a reason on why I'm being as harsh on it as I am. It had such great potential. Musical chairs taken to the extreme, something every elementary school student would dream of. But Oh Sit destroyed themselves by getting an uninteresting cast, with uninteresting contestants, with uninteresting obstacles, and with talented bands falling victim to uninteresting commentators' uninteresting statements that every human being who has two functioning eyes can see clear as day themselves. Quite possibly the letdown of the year, Oh Sit has failed to impress me on any level.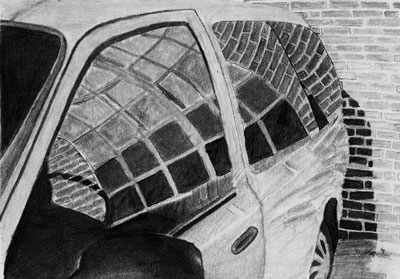 © Andres T., Monte Vista, CO