A Dare
March 18, 2010
My heart pounded as I lied on the tracks. How the hell did I always get myself into these situations? Because I didn't want to be showed up by Jimmy. I heard the train in the distance, the cheers of the other kids who stood a few feet away from the tracks, the ringing of the train-crossing signs. I DARE YOU, I DARE YOU, I DARE YOU! Their voices rang in my head.

Just a few more seconds; a few more seconds. The train whistle grew louder and louder. Good enough.

I jumped up and heard a loud pop and my leg gave out. I crumpled back to the ground, which was when the pain started. I yelped when I saw the source, my ankle was jammed between two rails in the track. Oh no. I pulled on my ankle and gasped as a wave of pain streamed up my leg. I could see the train begin to appear in the distance.

Panic set in. Gritting my teeth, I ignored the burning pain and pulled and twisted my leg, trying anything to get free. I yanked until I saw stars but my ankle wouldn't budge. The train was getting closer. I screamed wordlessly and turned to the other kids. They didn't seem to realize something was wrong, they were probably thinking how gutsy I was to be staying on the tracks so long. After all, I was the self-proclaimed Queen of Dares.

"Help!" They couldn't hear me over the train. I tried crawling off the tracks but didn't get very far. I DARE YOU, I DARE YOU! "Guys, please help me!" The train was on top of me.

I DARE YOU!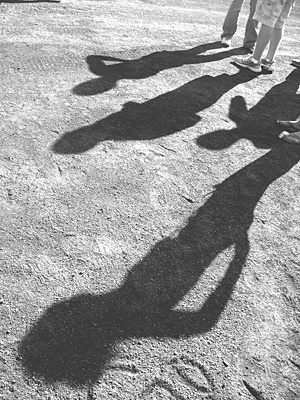 © Trella R., Mountain Lakes, NJ