Guns and Grenades
September 29, 2011
Bombs went off, children screamed, papers flew, and unnatural light flashed—these were the things I saw out my bedroom window. Last night I went to sleep in a peaceful world. This morning my life is alien to me.

Quickly I threw off my covers, snatched my bathrobe from my oak dresser, and rushed down the hallway. I opened the door to my parent's room and saw nothing. Not only were they not in their bed, but the queen-sized bed itself was missing, along with my father's chair and my mother's cherry wood furniture. Frantically I opened the door to my porch, only to be instantly knocked to the ground. Coughing, I attempted to sit up, but I was only forced back down again as the palm of a broad hand kept me stationery.

"Who…are you?" I managed. As I turned my head, I got the first look of my captor. He was a very powerfully built man: broad shoulders, long legs, and massive hands. He had dark hair, though his moustache was slightly lighter.

"General Williams," he replied swiftly, "U.S. Army."

"What's going on?" I demanded over the roar of airplanes overhead.

"World War III," Williams answered. Ironic, I was just reading about the Second World War. "Your family is among the many captives of the enemy. My platoon has been sent to attempt a rescue."

Hope surged through my veins. "I'm coming with you," I insisted.

He gave me a look of disbelief, one eyebrow raised. "Uh-huh, right." He stood up and shouted a quick, "Follow me!" over his shoulder.

I did as I was told (I didn't want to die in my neighbor's yard!) and he lead me to a Denny's restaurant. Inside were men and women dressed the same as he—camouflage suits and guns strapped to their backs.

"You stay here," Williams told me.

Stubbornly I refused. My family depended upon me, wherever they were.

Exasperated after arguing with me for ten minutes straight, Williams reluctantly gave me a camouflage suit to change into. As soon as I had it on, he handed me a gun. It was a fully automatic AK-47, equipped with a suppresser, long distance scope, a shoulder strap, and reserve magazines in the pouch of my bullet proof vest.
"Those boot camp training sessions had better pay off," I thought to myself.

Along with ten other soldiers, Williams and I headed out the back door. After several close encounters with a wide variety of artillery, we arrived at what looked like a run down gas station. The sign with the logo "Marathon" was cracked and the building itself looked close to splinters.

Williams and I crouched behind an upturned vehicle in the street. One of the men from our group sneaked around the back end and peered in a soot darkened window. A gunshot rang loudly in my ears and he instantly fell to the ground.

Next moment was chaos. Grenades were exploding, bullets were flying, and I was petrified. We were caught in a cross fire. Sure, I loved to read fictional war stories, but being in the middle of one was completely ridiculous.

Blindly I shot out. Closing my eyes, I tried to shut out the morbid sights and sounds of the raging battle.






----------


I sit erect in my bed, cold sweat covering my body, and my knuckles are white with a book clutched tightly in my hand.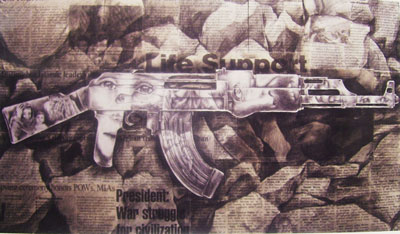 © Claire V., Lubbock, TX