Story
February 7, 2012
Korbin finished his last strike, and his sword gleamed in the light of midnight. Another bad case of insomnia kept him awake that night, so he snuck out after curfew. Again. Last time he was caught—and nearly put to death. Being out after curfew is already a life sentence, but being in possession of a sword as well? Treason. The last thing the king needed was another uprising. And the fact that Korbin had a sword and was out after dark? Death, if it weren't for his father anyway. Korbin's father was a lord in the king's court, a powerful one. He rules about half the kingdom, almost. The king lets Korbin's father rule it, but the king is the ultimate authority. Despite all of this: the king, the curfew, and near-death, Korbin keeps practicing. Keeps fighting. He completes another set of forward strikes before torchlight leaks from around the corner. Soon it is a flood, and Korbin is caught in the middle. "Stop! In the name of the king! Put down your sword!" Korbin does the exact opposite: he goes into a defensive stance, ready to take on the world. The six guards charge him, and his sword punctures two hearts before he is over-powered. "Hey! It's Lord Falow's kid again!" the guard chuckles, "he won't get away this time."

When Korbin wakes up, he is in prison. Again. Maybe he could escape; he almost did last time. Then he looked out the window. Korbin was two stories up. Escape was rendered impossible. He sat down on his bed. The world was against him. The grayness of his cell will kill him, if the guillotine didn't. A guard, "Ha, you're awake, don't even expect to escape now, you're only a few hours away from death." Korbin pushed him away, willing his last dream to come to him.

Korbin opened his eyes to dragons. Dragons everywhere. Dragons in his skin, in his eyes, in his mouth, and in his mind. Red, blue, green, red, brown and black ones. Ones that breathed spouts and spurts of flame, towering above him. People were riding these dragons—no, they were teamed with them. They were fighting the king's army, a battle lost, but by who, Korbin did not know. In the center of the battle, there was a rider drenched in black armor, matching the color of his dragon. The Black Dragon was breathing a horrifying black fire that burned in the water. The Rider was lopping off the heads of every soldier he saw. The king's army kept sending reinforcements, but it didn't matter, because the Rider doubled in his ferocity. They slaughtered all of them, and their back-up dragons had barely anybody to kill. And before Korbin woke up, he saw a black-haired girl, and her green dragon, laying on the edge of the battle-field, slain. Then he was lifted away.

A guard was shaking him, "wake up kid. It's time for you to die," and under his breath, "finally." The guard bound Korbin's hands; he led him to the guillotine, "your execution is private, too bad." Then he pushed Korbin toward the executioner. The executioner put Korbin's head in the hole. He locked it in.

Then, fire. It was everywhere; licking the floor, lapping up the seams that held the castle together. There was crashing too: lots of crashing. Deafening crashing. And a girl's voice calling his name.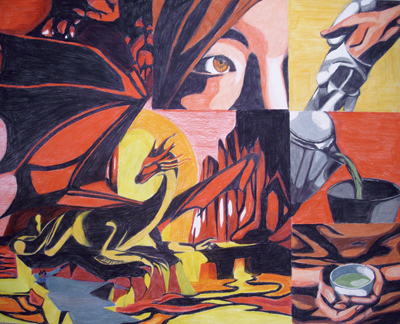 © Weike W., Rochester Hills, MI