Second Chance
November 24, 2010
A sad little girl sat in her room one night, trying to estimate how many pills it would take to kill herself. She figured if she took the whole bottle then she could drown out the sadness, anger, & confusion that always left her hollow inside. She downed as many as she could at one time and then felt her world begin to spin. She became frightened as she fell through a dark tunnel. It was so dark, not even rays of hopeful sunshine could beam through. The coldness seemed to close in around her and choke her. Then suddenly a voice that sent chills down her back spoke,
"Why are you here so soon?"
The little girl did not know how to respond but tell how sad she had been. The voice spoke again,
"Life does not always go the way we like, but that does not mean we should give up, it simply means we should get back up and try again." The little girl decided that the voice spoke with truth and reason,
"Alright Voice of Wisdom, I agree with your words. I will try again if it is your will."
Silence. Then suddenly movement. She was thrust upward back through the tunnel, except this time she could feel the warmth of light on her head. Then she could hear her mother's thankful pleas, who had evidently found her. And she knew this time, she would do it right.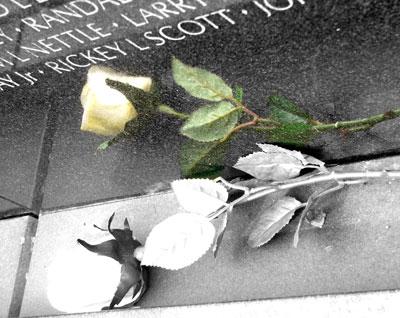 © Kimber E., Yorktown, VA