The Day My Mother Died
May 2, 2011
I'm always sitting on this street corner waiting for my late mother. She's been late for the past two weeks. It would have been quicker for me to just walk home, but she always insists that there is no need for me to walk. She is so paranoid sometimes, she is always afraid that I'll get kidnapped, raped, or murdered. It's just a 15 minute walk from school to home. And she is always at least 30 minutes late. I just wish that one day she might let me have a life of my own, and not make every decision for me, how am I ever suppose to grow up with her doing everything for me. I'm sixteen years old, not ten. Why doesn't she ever treat me like an adult? Those were the thoughts I had the day my mother died. She was rushing to that stop to pick me up from school, and take me home. She didn't want to be late, she didn't want to disappoint me again. Why had I been so selfish? Why couldn't I just deal with her picking me up late? I know it's my fault that I'll never see my mother again, and somehow, I know I deserve it. I might not have been the drunk that ran into her, but I was the reason she was rushing, and not acting like the safe and cautious person she was.

My dad picked me up that day. It was a long and silent ride home. I knew something was wrong, but I just figured that mom had to stay after and dad was mad about it. She always made sure that her clients were happy, even if that meant her staying a couple of hours after work. When we got home, dad had tears in his eyes, but he wouldn't tell me what was wrong. There he was looking for the house keys. His dirty blonde hair, chocolate brown eyes, a medium build figure. He was handsome. But you could always tell how he was feeling if you looked him in the eyes. His eyes always give his emotions away. And the emotion that I saw was pure sadness.

When we were inside, dad sat me down at the table and said, "Em. I need to tell you something. And I don't know any other way to put this." At that moment, I knew something was seriously wrong, and wasn't just the, "your mom is staying after work again, I guess it's just us eating tonight," conversation. It was something really bad. I looked at him, and he said, "Your mother is dead. She was in a car crash, and died instantly." I stared at him, with tears in my eyes, not moving a muscle, hoping that if I just sat still, this would all be a dream, and mom would be walking through the door in a few minutes and shout, "HA! We fooled you." But I knew from the tone in his voice and the way he was looking at me, it wasn't a joke, it was the cold, hard truth. My mom is dead. The first thought that ran through my head was if I had told her I loved her this morning. If I had been nice to her, had I hugged her? I ran to my bedroom, and shot under my covers, and bawled. I cried myself to sleep.

When I woke up, I tried to make sense of everything. I tried making everything that had happened just a dream. When I walked down stairs, I would find my mother sitting at the table, drinking a cup of coffee like she normally did, reading over some papers that she needed to check for a meeting or something that she had tomorrow. I wanted all that to be true. I wanted my mom, I wanted her to be there, and hug me. To tell me everything was going to be all right, and it was just a dream. Just one big, bad dream. Now I know why she treated me like a child, I'm not ready to grow up. I still need her there to let me know that everything is alright. The next thing I know, my dad is in my room, cradling me in his arms, repeating, "Emily, everything will be alright, we're going to get through this." I wanted to believe him; I wanted to say, "Daddy, I know we are going to be alright." But I know that nothing is ever going to be alright. My mother is dead, and nothing is going to be the same.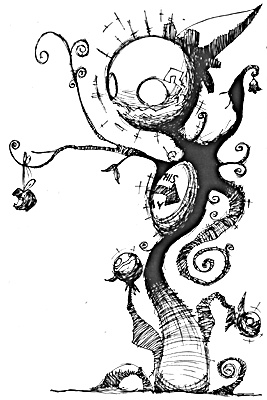 © Tas H., Galesburg, IL