These Three Words
May 8, 2013
I LOVE YOU.

She practiced it first in writing because she was always more comfortable that way. She read it back silently, allowing the little voice in her head to try out different intonations.
i LOVE you
I love you
i love YOU

She kept saying and saying it in her head until the words lost their meaning and just became sounds.
iloveyouiloveyouiloveyouiloveyouiloveyouiloveyouiloveyouiloveyouiloveyou
Words, after all, are no more than that. SOUNDS. Like a laugh or a sigh or a scream of delight. Just a sound. A breath. For him.
I love you.

She did, didn't she? One can only rightly know something though contrast. Perhaps she merely possessed a severe dislike for every other man.
Still, what did it matter? One only gets these words (really, truly, profoundly) a handful of times in a life. She could not hold on to them forever. She would spend them on him. They were always his, she supposed.

"I love you," she said aloud. The sound was a laugh, a sigh, a scream of delight. Undoubtedly, these three words were his.

The thought shook her.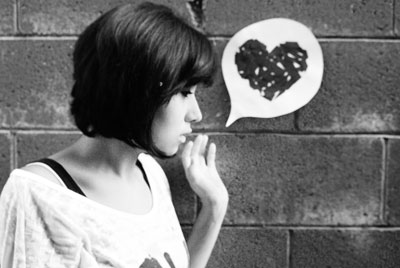 © Michelle B., West Covina, CA