Rose-colored affair
April 24, 2011
Characters: Angeline-girl
Aidan-dude :)

Angeline (chatting up with bffs)

Aidan (strolls by): hey Angie

Angie (feels skin near her shoulders tingle)

(bffs laugh)

(irritated at Aidan calling her Angie): It's Angeline.

Aidan (face scrunches up in disgust)

Scene 2:
Aidan: So, ANGELINE.....

Angeline: >/ what do you want Aidan?

Aidan: (laughs)

Angie: why'd you bother saying hi to me in the mall in scene 1? What's this all about......?

Aidan: its about....

(teacher walks in; everyone silent)

Angeline (whispers): we hate each other. If you EVER talk to me like that, you want something from me

Aidan: who ever said we hate each other?

Angie (smiles evilly): what do you want from me, Aidan?

Scene 3:
Angeline: No, no, and NO

Aidan: and why not?

Angie: ok, why would I help YOU?

Aidan: because if you don't, I'll tell everyone how.......

Angeline (laughs): how what?

Aidan: when we were little, and you....

Angie: you wouldn't!! (shocked)

Aidan: oh i would

Angeline: It's your fault that you're so immature that you HAD to claim that you could get any girl you wanted leading you to make a bet with your buddies that you'd get me to fall for you

Aidan: hey, I've got an image to save, ok?

Angie (stifles a groan)

Scene 4 (flashback)
10 yr old Angeline: (sick & sleep deprived) hey Aidan

10 yr old Aidan: (alone in a room with Angie) hi Angie

Angie (stumbling): have you ever thought of......

Aidan (steps back)

Angeline: KISS ME AIDAN (leans forward)

Aidan: (shocked)

Angie (vomits all over Aidan)

Aidan: ew!

Aidan: (stumbles into classroom)

Scene 5
Angeline: Guess i HAVE to help him (shudders at memory in scene 4)

Scene 6
(over pizza)
Angie: so how are we supposed to do this?

Aidan: maybe......i don't know...TRY to like each other?

Angie (narrows eyes)

Aidan (ignores it): favorite football team?

Angeline: i hate football

Aidan: HOW COULD YOU HATE FOOTBALL?! (forcing himself to calm down) favorite hobby?

Angie: drama club! :)

Aidan: that's dumb

Angie: (crushes her soda can with one hand, angrily)

Aidan (concludes): so obviously we have nothing in common. Maybe if we try sitting next to each other without attacking each other

Angeline (hesitantly moves from across from him to next to him in the booth)

(Angie feels shivers at first. Then the atmosphere starts to feel comfortable. Actually kind of nice. Both are frowning and silent)

Angie (starts to get scared): why cant i just PRETEND to like you, like in the movies?

Aidan: no way

Angeline: but i could NEVER like you

Aidan: And why not? You're too good for me?!

Angie: You're IMPOSSIBLE (storms out)

Scene 7
Angeline: who knew English could be so boring?

Aidan: tell me about it. i mean, come on---our big "play" is called "a rose-colored affair"---what's that supposed to mean?

Angie: It's an unpopular play written by an unpopular writer NO ONE knows about

Aidan: it's stupid

Angie: i think I'm about to fall asleep

Aidan: i think i already did

Angeline: why, would you look at that--we actually agree on something

Scene 8
Aidan: ok this is the big moment. The huge party my best friend throws each year. With you as my date, it'll show that we're officially in a relationship. If we put on a good show tonight, the bet might end by next week.

Angeline (feels sick :/)

(they arrive at the party)

(everyone stares as they make an entrance)

Aidan: (fastens arm around Angie's waist and smiles)

Angie (forces back a scowl)

-------------------- To different people

Aidan: yes we're together
--------
Angie (forces herself to say): i know we USED to hate each other but......
------------
Aidan: It was unexpected but, here we are!
------
Angie: actually now i find him very attractive (gulps)

---------------------------Later on

Aidan (joins buddies)

Angie (talks with a friend)

Friend: wow Angie i don't understand you as well as i thought i did. Why would you wanna go out with that loser? (gestures to Aidan)

Angeline (winces): i didn't know him like i thought i did

Friend (shrugs): You once claimed to hate him. I guess in life, there's really no guarantees

A: :( some people change

Friend: not YOU though, of all people. It's like i don't even know you anymore. And it sucks.

Angie (looks over at Aidan & his friends. His buddies are snickering and looking in her direction)

(She cant take it anymore. P*ssed, before she could control herself, she storms up to the dudes)

Angeline (shouts): THAT'S IT!! I DON'T LIKE AIDAN AND WE'RE NOT DATING. WE'RE JUST PRETENDING CAUSE OF HIS STUPID BET. HE WENT UP TO ME AND ASKED ME TO HELP HIM. I HATE EVERY PIECE OF HIM. I HATE HIM WITH DREAD AND PASSION!! WE WERE NEVER TOGETHER!!

Scene 9
Angeline (nervous. In ELA the kids have to go up to the front of the room and tell about the most confusing moment of their life. The perfect opportunity for Aidan to tell everyone all about "the moment" in scene 4. It WAS confusing)

(Aidan's the last one to share)

Aidan: the thing that confused me the most in my life was that play we did, rose-colored affair.

(Aidan's about to go back to his seat when the teacher gestures him back to the front, mouthing 'describe')

Aidan: That play stuck out to me cause this 1 girl...i swore i hate her but me & her only ever agreed on 1 thing.....that play is stupid. In that story, the man & woman faked a relationship. i hate lying like that cause when people pretend to be a couple, ALWAYS in the end they like each other, for real. And that girl sure is 1 annoying pest....And i f***ing love her.

Scene 10
Angeline: (calls out to Aidan)

(the 2 get close)

Angie: i heard what you said

Aidan (grinning): oh yeah?

Angie (slaps him right across the face)

Angeline: Get your *BEEP* over here

Aidan: (smiles)

(she pulls him close)

(they kiss softly)

The end :D this has been a play by Medina D.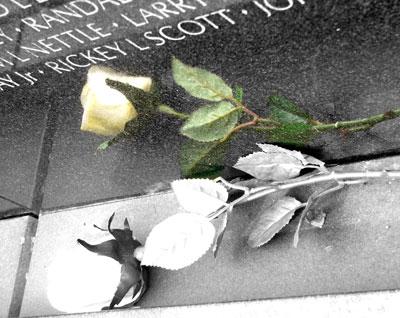 © Kimber E., Yorktown, VA