Goodbyes
June 12, 2009
I sit alone in my room counting the hours, the minutes, the seconds, until I can reach the moment I have placed before me. Thoughts pulsated thorough my brain staying only seconds to be analyzed. Questions from the far corners of my mind broke trough only to be shoved aside. Finally the mental pressure was too much and I gave into the whims of those nagging thoughts.
What if he leaves you?
Never he loves me.
What if you run out of money?
We will get jobs.
What if the cops find you?
They can't chase ghosts.
How will you get to were you're going?
Anyway we can.
What if you get pregnant?
Silence. Nothing but silence filled my once busy mind. What would happen if I became a mother? A child can't grow up on the run. Would John even stay with me if he were to father my baby? Or would he flee at the sudden change as he watched my stomach stretch and grow?
We will be fine. I lied to my head.
Are you sure of that Anne? Who will pay for your meds? What will chase away the monsters as you cry yourself to sleep? Mommy won't be around anymore.
John will stay with me.
Will he? Why would he want someone like you? You're holding him back, can't you see that? You're nothing to him but someone to sleep with. You're inconsequential.
Deep down I knew it was true. How could I ask him to stay with someone as insecure as me? How can I ask John to love a crazy person? What would happen?
There is only one solution to this on going problem.
Do it. See what happens. I taunted myself.
Don't! Cried my conscious in a desperate attempt to change my mind.
Why not? I asked.
More silence followed. Why not? I ask this over and over each time receiving nothing.
With the obvious answer I reached for the phone. I dialed John's number from memory.
"Hello?" His deep voice set my heart on fire. "Are you ready to go?"
"Yes."
"Great I'll be there soon." His voice was excited and refreshing.
"I just want to make sure of something. I don't want to ruin your life." Tears bit at my eyes threatening to explode into tiny waterfalls.
"Ruin my…Anne I love you. How could you ruin my life?"
My heart broke at his sincerity. "OK, see you soon, John. I love you." I hung up and grabbed my bags.
Five minutes passed before his blue dodge pulled into my driveway. He got out and held me close.
"Are you sure you want to do this?" He asked.
"If it means spending the rest of my life with you than yes I'm sure." His smile warmed me to the core. "Let's go before my parents get home."
With that we jumped into the car and headed off. His hand was wrapped around my waist and my head lay conferrable on his chest. Looking away from the road he would plant a kiss on the top of my head.
We were almost to our destination when flashing lights came up behind us.
"John!" I snapped up to look at the two cop cars behind us.
"I know." His voice was serious and protective. "Hang on." We gradually accelerated to fifty miles an hour.
My eyes were fixed on the road. One more mile and we would be in Mexican territory. I glanced back for a moment to see three more cars. Spinning around something caught my eye. It was a stray tabby cat walking right in the middle of the road.
"John, watch out!" I screamed.
He swerved to miss the cat but went off the road. We bounced out of control into a large rock which flipped the truck. John tried to regain control of the truck but it was in vain. We rolled a few times into the open clearing. In the process we were thrown from the car. I landed face down on a piece of glass from the window. To in shock to scream I rolled over onto my back.
Blood soaked my cloths and the cut burned sent waves of pain through me. I looked over to find a burning heap stopped at a tree. Pieces of debris were scattered every where.
Soon I caught sight of John. He was limping towards me with a nasty looking cut on his forehead and a broken hand. He looked dazed until he saw me and his face turned pale white with fear.
"Anne!" John screamed rushing to my side. "God what have I done?"
"John…I'm…so…sorry…" My words were short shallow breaths drenched in crippling pain.
"Help is on its way, hold on." Tears spilled from his eyes.
"John." I reached up to brush his cheek. "It's…too late."
"NO! It can't be." A flash of rage tore trough his eyes as he picked me up.
"I…love…you." Everything was going black and the last thing I saw was John's gentle eyes staring at me. He had begged me to hold on, to stay alive until the ambulance got there, but we both knew it was impossible.
"Goodbye John." I whispered in my last breath of life.
I watched from above, crying as he clutched my lifeless body close to his. Slowly I left the picture to descend into the blinding light behind me.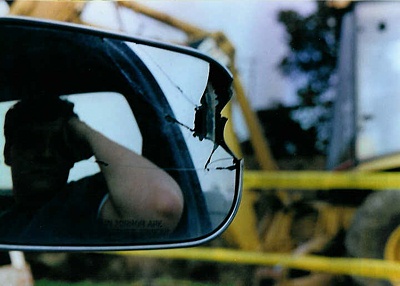 © Matt M., Ponca City, OK