Taking on the Chararistics of a Helium Balloon
June 12, 2010
"Hey, Lindsay, will you go out with me?" I looked up from my hazardously messy locker straight into Bacob Jlack's eyes that were like to big dark roasted coffee beans beneath his thick raven black eyelashes. My heart started speeding as it rushed blood into my cheeks, burning the underside of my skin. I didn't know what to say. Was he joking? Bacob Jlack, the hottest guy in school? He had hard, toned, muscles that were so big that even the longest tape measurer in the world couldn't get halfway around one of his smoking biceps.

"Huh?" Was the only thing that came out of my mouth as I stared at his lips. His perfectly moisturized lips that never seemed to get chapped or have icky skin peeling off of them. Like big juicy raspberries, they made my mouth water. They winked at me and flirted with my will power that was quickly losing touch with reality. But they were the forbidden fruit I had craved ever since I saw him walk into my 3rd period science class. That wonderful day when he ambled into the room and caught my eye, or my heart, which had been irregularly beating after its first encounter with his face.

"Uhhh, will you go out with me?" He repeated. Then he did something I'd never seen before. His eyes shifted away from my face and his cheeks turned crimson under his well-tanned skin. He quickly stroked his fingers through his hair. The bits of melting dark chocolate kissed his butterfly fingers, and his hand flew from its perch to rest behind his neck. He glanced up through his eyelashes with nervous, hopeful, puppy eyes. Bacob nervous? Now that is a sight. He was always so sure of himself, head held high, as if he could do anything. That's why people liked him. When they were around him he made everyone feel as though they could rule the world, do anything. His uncertainty shocked me so bad that I thought I might die, and then need him to resuscitate me with those big juicy lips.

"Really?" I asked with an air of doubt mixed into my hopeful voice. He looked genuinely nervous. But it could be a dare. I weighed my options in my head like I do when I'm at a restraint. 'The sloppy joe is a mess and the waiter's hot, but I'm really craving a sloppy joe. However, the salad is less messy but then I'll look like I'm concerned about my weight…' and so on. So thoughts started racing through my head. 'He could be doing this for a dare and think I'm a freak. If I say yes then he'll be stuck with me as his girlfriend when he doesn't even like me. He also may not be able to tell me it's a dare. On the other hand, he could be sincere and I could give up the greatest chance in my 14 years of life.'

"Yes, really," he answered, and his words were as sweet as chocolate icecream from Baskin Robins on a hot summer's day. Then he regained his confident disposition. "I really like you. You're smart and your gorgeous and I just really, really like you. I mean ever since that first day in Ms. Leslie's science class, I've wanted to ask you out, but I never had the guts." He looked up to me sheepishly, with a hint of a smile on his lips.

I almost suffocated as he looked down six inches to meet my eyes. A smile crept on my lips and I looked straight into his perfect eyes, seeing complete truth. I saw a perfect reflection of my feelings for him radiating off of his eyes, for me. I almost cried as I nodded and a huge smile erupted on his face, his white teeth sparkling in the light of the empty hallway. Then suddenly Bacob swept me into his arms. I was surrounded in six feet of muscular hotness and I melted into his baby blue t-shirt. I beamed while my cheek pressed against his pecs. As I took on the characteristics of a helium balloon, his cozy, warm, arms sang, "You are beautiful, amazing, and I love you." And I loved him too.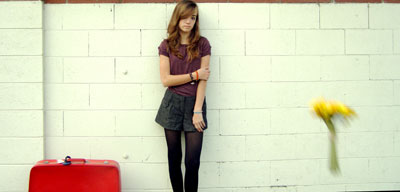 © Austin K., Studio City, CA