Requiem
January 13, 2011
It was ten P.M. in Connecticut. All was still and hushed in this small, rather affluent street affording a view of the river and the silent cargo boats traversing past. This small village gave the impression of being the outskirts of civilization, save for a few glossy cars occasionally cruising past. Who knew if the passengers were leaving or arriving? Whoever came here usually was here to stay, whoever left would undoubtedly return someday.
A streetlight flickered and went dim. A confluence of mosquitoes was very much aggrieved at this loss and sped off to resume their antics elsewhere. A light on the 2nd floor of an apartment nearby flicked on. The silhouette of a rather stocky woman appeared and reached inside the medicine cabinet. The woman jumped (it was a rather high jump considering her build) as a piece of glassware clattered into the sink. Sighing about her son's obsession with cologne and disregard for aromatic cleanliness, she removed a bottle of aspirin and retired for the night.
Contrary to what the reader may now assume, the aforementioned son was just as mundane as his mother. He was an average kid who drove to school at 7 A.M. and sat in class doing nothing but listening. His weekend activities consisted of shopping in the city and doing homework.
The forgoing cycle of life in this family was sadly interrupted by the disappearance of the father ten years ago. Nowadays, no one thought much about the man; the markings of his inhabitance were left alone in his walk-in closet, in which his vintage clothing, a non-functioning roulette wheel, a deck of playing cards, and some priceless trinkets were entombed. As the years rolled by, the dust began to settle, until everything was pure and still.
The sunlight beamed down on the overhead window, giving this shrine a rather heavenly appearance. The whitewashed walls reflected the light, giving the room an ever-present glow. If any living creature had wandered into this place, it would have expected to see their Lord Almighty nearby.
Time stood still in this room. The roulette wheel didn't turn; the clothing was rigid in its contrast to the newly washed sheets waving gently outside. A thin film of dust coated the patent-leather shoes, much like snow clinging to shoes that were in a blizzard. The bottles of past-generation colognes gave a nostalgic air.
Outside this room, life went on. Outside this house, life continued with the occasional riot or arrest. But nothing changed.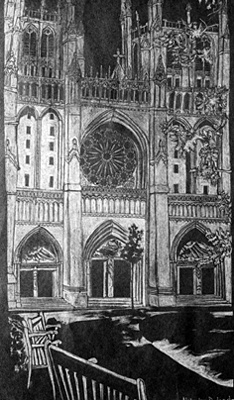 © Alejandra D., Kannappolis, NC