fairytale
August 8, 2011
Could it really get this ackward?
The rain was pounding on the car like needles on your skin. Patrick was clenching the wheel hard and frowning. He cleared his throat and I let out a small sigh. I look out the window at the cloudy sidewalk and a girl with her mom under an umbrella hugging.
I burst into tears.
Patrick looks at me and stares. He doesn't know what to do. My face was sweaty and wet and My hair felt like it hadn't been washed in weeks. I felt miserable.
He silently put his cold hand on my shoulder which made me cry even more. I am not even positive about what happened next. But I think he pulled to the side of the road and then pecked me on my head.
That was a first.
I had never been friends with patrick. I didn't know him that well. He had lived with us for about 8 months now, but i still was his "wives daughter" and not his own. I always thought he was the kind of guy who didn't like being around people and especially around me.
I didn't feel that now.
"I'm sorry about your mother." He said. I cried even more.
I was 14 with a dead mother and a step-dad who I haven't even known for a year yet. And with my boyfriend in the hostpital, my life wasn't even close to being a fairytale.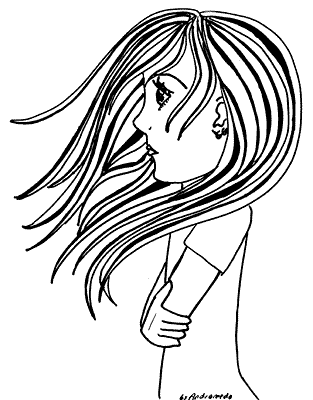 © Andromeda M., Milford, CT