"Full Moon"
December 2, 2011
What do I do? The distant rustling of leaves stung my ears and body with fear as I ran between the trees, not knowing where I was going- or going from. Dark and morbid, the sky was a black sea of what seemed distant form the rest of the world, and I was at the bottom. The full moon crept over the sky like a spotlight on an empty stage, and I was the show. One that I didn't want him, or it, to seem me in. I knew that it was the hunter, and I was to be hunted.

My heart pounded faster, and my hands shook violently as I stopped under a large tree, faced away from the bright moon. That's when I realized, the noise had stopped. Silence crept over the eerie forest, and that terrified me most of all. The stinging sound of nothing but a quiet wind pressured me to back even further against the thick tree, as if trying to hide in it. The palms of my hands tried to grasp its rough bark, but instead I clinched my eyes in fear of discovering my predator. Suddenly, the expected crunch of a twig was far too close, and that's when my world vanished.

I felt like I was falling into a never ending hole of fear; that I would spend eternity falling. Until suddenly, my eyes broke free and opened, escaping me from what I thought was reality. Familiar surroundings of my life in a safe world flooded my mind, though relief did not come. I rose from my bed and looked in the antiquated mirror and was shocked by my cadaverousness. I quickly turned away from the reflection and found the window. Slowly, I regretfully opened it to find a dark sky and a full moon in the distance.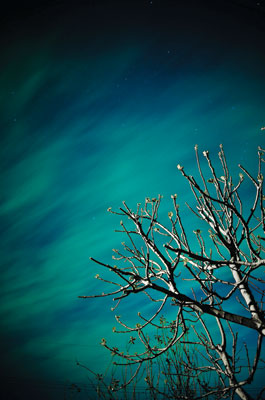 © Chyi-Dean S., North Tustin, CA